Frequently Asked Questions
Q1. How do I register so I can contribute to the online conversation by adding comments, proposals, vote etc.?
Go to the How to register section at the Homepage which has detailed instructions.
Q2. Why do I get an "Invalid Ticket" error when I try to login?

This is a generic message indicating that the user has an account on the site but that myaccount has not been able to authenticate the account. As the user was initially able to create their account using myaccount this indicates the issue lies with myaccount. Trying again in a short while will usually resolve this problem.
Q3. I can log into SACC successfully but why am I unable to support proposals or vote? I see a warning about "Only for users within the council area".
This indicates that the user registered with myaccount using a postcode that is not based in the South Ayrshire council area.
Q4. Why has my activation email not arrived for my new South Ayrshire Community Conversations account?
There can be a variety of reasons why an activation hasn't arrived e.g. typo in your email address when registering etc. but there are things you can check/do. Check your spam or junk mail folder around the date you initially registered to make sure that the email has not been diverted by your mail provider e.g. gmail, yahoo, hotmail etc. Please add noreply@mail.communitychoices.scot to your list of contacts when logged into your email account as this will help to ensure the emails arrive in your inbox.
Q5. Can I register another person in my household to the same user account?
No. Each user has to create a unique account using a different email address. You cannot register more than one user against one email address.
Q6. The username I want is not available.
If the username you create has already been taken you will be asked to create a different unique one.  You can do this by adding a special character or digit or by choosing another username.
Q7. The password I want to use is not being accepted?
Please ensure you are selecting an 8 character password.
Q8. Any comments or proposals I add have my username attributed to them. I don't want people to know that I wrote them.
All comments and proposals are attributed with the username of who wrote them. It is recommended you go into My account at the top right of the homepage on the SACC platform

and update your username to something that is unidentifiable to other users so they cannot identify you or attribute to you any comments, proposals etc. that you may enter into the platform.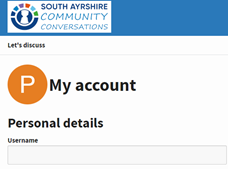 Make sure you save any updates using the

 button at the bottom of the page. Note updating your username in this part of the SACC platform will not change your log in username to the SACC platform as you sign in using your mygovscot myaccount username which you haven't changed. This update will only change the username presented with comments, proposals etc. within the SACC platform.
Q9. What other sections of the South Ayrshire Community Conversations platform are there?
There will be five main sections to the SACC when it is fully operational. At this initial stage there is only one section open – "Let's discuss". Other sections which will be added to the SACC platform are:
"What do you think?": Gives the user an opportunity to present and share their opinion or concerns with others on South Ayrshire related issues.
"Your suggestions": Gives the user an opportunity to make proposals to the Council and its partners to consider to carry out.
"Your vote": Gives users the opportunity to vote on proposals from the community that have reached a predefined level of support in the community and also on certain proposals from Council or its partners that the community should decide on.
"Your choices": Gives uses the opportunity for users to decide on how part of the public budget is spent otherwise known as participatory budgeting.
Q10. What is the purpose of the "Let's discuss" section of the South Ayrshire Community Conversations platform?
The "Let's discuss" section of SACC, also sometimes referred to as Collaborative Legislation or Processes section, is a method of participation for residents of South Ayrshire to comment on, modify and contribute to actions, plans, strategies or regulations the Council is putting in place.
Q11. Who can participate in the "Let's discuss" section?
Anyone registered on SACC can make a contribution to any of the processes/topics in the section that are open. Comments and proposals are scrutinised by the relevant council service area and taken into consideration for the final drafting of the text.
Q12. How can I contribute to "Let's discuss" processes/topics?
There are processes/topics in which direct questions are asked that can be answered openly and other users' answers can be voted on. In others, proposals can be made and prioritized between citizen proposals and those made by the Council. There is also the possibility of publishing the text of a regulation for comment, in that case you can select a part of the text to comment directly and support other comments.
Q13. What happens to the contributions once the "Let's discuss" process/topic has closed for contributions?
The Council takes into account all the opinions and contributions made by users and incorporates them into the regulations, plans, strategies or actions that are finally approved or carried out.